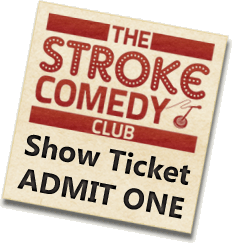 WE HIGHLY RECOMMEND THAT YOU BUY SHOW TICKETS WELL IN ADVANCE
Tickets are £16 each (seated)
Seats are reserved in your name for the show; when you arrive you will be shown to your allocated seat(s). We no longer sell standing tickets.
There are a number of ways to purchase tickets
Book by Text with ZERO fees – Send a TEXT to Ken on 07816-778709, tell him your name, how many tickets and which show date, and he'll send a payment link back. This option will save you £1.60 per ticket compared to booking online (below).
When already at a show, buy tickets from Ken for forthcoming shows.
Buy from Ken at one of the Quiz Nights that he hosts; at Lichfield's Bowling Green Inn on Wednesday nights.
Book online – click the blue button on the right. A booking fee applies (currently £1.60). This service is managed by We Got Tickets and if it says there are no places available for a show, please email ken@strokecomedy.com to be put on a waiting list in case of any cancellations.

Ring Ken to arrange a ticket purchase, on 07816-778709
Last resort – possibly buy a ticket from Ken on the door on the show night from 7.30pm ish, IF tickets are still available, best to call him though.
Shows start at 8:15 pm, but arrive early – by about 7:45 pm.
The vast majority of shows are at least 90% sold out on the night and sometimes completely sold before the start at 8:15 pm. We've had to disappoint lots of people who left it until the last minute and try to get their tickets on the door – so get yours well in advance today!